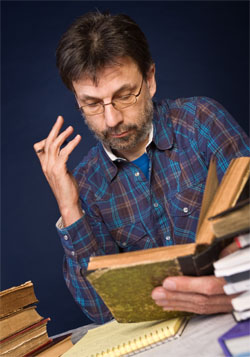 Belief based on evidence alone is superficial and powerless. Nevertheless, evidence in favor of the extraordinary Mormon truth claims can serve useful purposes. Angelic ministrations in our days? Modern-day prophets and apostles? A restoration of the ancient church? Many do not investigate the LDS Church because they can't get past so remarkable a history. If you find yourself struggling with these kinds of feelings, supporting evidence can help you overcome your initial reluctance so that the marvelous spiritual and secular blessings associated with Mormonism can be evaluated on their own merits. Additionally, for those who already have an abiding faith, evidence can strengthen belief.
The purpose of this page is to catalogue some of the evidence that supports the Mormon position. The descriptions are brief, but links are provided for those who wish to learn more. Please let me know in the comments if you're aware of additional findings that should be included here.

The Book of Mormon
Joseph Smith, the first Mormon, asserted that the Book of Mormon (BOM) was translated by the power of God from an ancient Semitic text written largely by prophets on the American continent. Critics suggest that the BOM is in fact a fabrication. ()
Church History
Many of the events in Mormon history provide evidence that supports Mormon truth claims. ()
The Book of Abraham
Joseph Smith claimed that the Book of Abraham was an account of the great patriarch translated by the power of God. Critics claim it is a fabrication. While the source of the translation is, in my opinion, uncertain, there is evidence that suggests the document is in fact derived from an ancient Semitic text.
The Book of Abraham, which Joseph Smith claimed to be a translation of an ancient text, mentions "the plain of Olishem" (Abraham 1:10). This name does not occur in the Bible. However, it does appear in an inscription of the Akkadian ruler Naram Sin, dating to about 2250 BC. The Akkadian description matches that given in the Book of Mormon in both time and place. (1)
The Bible
The Holy Bible contains multiple prophecies regarding the message and mission of the LDS Church in the latter days. ()
The Bible specifically describes "…another [latter-day] angel [flying] in the midst of heaven, having the everlasting gospel to preach unto them that dwell on the earth, and to every nation, and kindred, and tongue, and people." Mormons believe an angel (Moroni) helped restore Christ's ancient gospel in our days, and a central part of our theology is spreading the message of this restoration to all the peoples of the earth. (1)
The Bible is full of prophecies suggesting that God's true faith would be taken from the earth for a time (Isaiah 29:10, Amos 8:11-12, Matthew 7:15, Matthew 24:4-12, Matthew 24:24, Matthew 24:9-11, John 16:1-4, 2 Timothy 3:12-13, Acts 20:29-31, 2 Timothy 3:1-7, 2 Timothy 4:3-4, 2 Thessalonians 2:3, 2 Peter 2:1-2, Revelation 2:2, 2 Timothy 1:15, Galatians 1:6, 1 Timothy 1:6-7, Galatians 2:4, 1 Corinthians 1:11-13, 2 Corinthians 11:13-15, 2 Timothy 2:16-18, Titus 1:10-11, 1 John 2:18, Jude 1:3-4). Many Biblical scriptures also predict a restoration of God's true faith in the last days (Isaiah 2:2-3, Isaiah 29:14, Acts 3:20-21, Ephesians 1:10, Revelations 14:6-7). These scriptures support the Mormon claim that, upon the death of Christ's apostles, the authority to act in God's name was taken from the earth. Christ restored this authority through Joseph Smith. (1)
Isaiah prophesied that in the last days, "the mountain of the Lordís house shall be established in the top of the mountains, and shall be exalted above the hills; and all nations shall flow unto it." When in the 19th century the Mormons first applied for statehood, they wanted to call their state "Deseret." However, the United States government insisted that they call the state "Utah" instead. It was only later discovered that "Utah" in fact means "people of the mountains" or "in the tops of the mountains." (1)